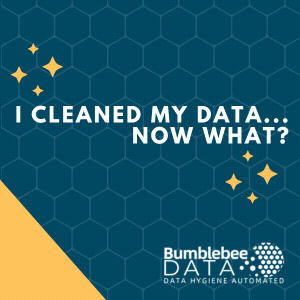 The fourth in Bumblebee's content series, this guide will address data cleanup from the perspective of using a bulk-update approach – whether that's by cleaning your data in an environment like Excel, using a report from your mail house, or leveraging an automated data hygiene tool like Bumblebee.
In this report, the Bumblebee team answers frequently asked questions around bulk cleanup and what comes next. Topics include:
How to handle duplicate records. (Delete? Combine? Merge?)

What do email validation results look like, and how to interpret them. (Complainer? Catch-all? Malformed?)

How does USPS postal validation work, and how should results be interpreted.

Best practices around bulk update procedures and planning.

Solutions and next steps.
Fill out the form to the right and download this report today!