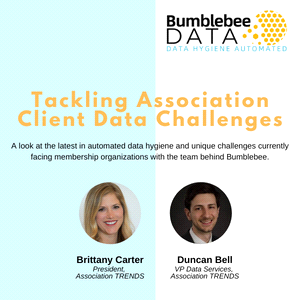 Lately, everywhere you turn there are webinars, events, and zoom sessions about data. We think that's great but here's the thing, data doesn't mean all that much and can actually be incredibly misleading if it's bad, dirty and duplicated.
On April 29th, the Bumblebee Team hosted our own data chat about how you can work with your association clients to clean up their data without it feeling like a massive undertaking. The goal was to help associations quickly and as efficiently as possible, to get their data in working order so that it can become a meaningful tool.
• If you're a consultant you know what a nightmare dealing with data can be. We're here to help check that item off of your to-do list.
• If you're an AMS or other related software you know how much strife and unhappiness bad data can cause for your users. Right or wrong that frustration around bad data often times gets projected back onto you. Our role is to help ease the bad data angst.
• If you have a really wonky data challenge, we want to be the people you call when you're scratching your head about how to solve it without wasting a ton of time. Not convinced? Just hear what the team at ISPE had to say "We tried working with other vendors, but they didn't really "get it". So I have to say that after talking to the Bumblebee team I was absolutely amazed at how accurately they were able to understand our problem, restate it, and identify a solution. Our original data looked absolutely obnoxious and I thought they were going to say "oh – never mind". But they developed something that was really workable."Specific questions you bring to the table about how automated data hygiene works in practice
What is Bumblebee? Bumblebee automates data transformation and cleansing activities while using data science to provide fast and accurate duplicate identification and record matching.
What's covered during this chat?
• How Bumblebee can work with AMS/consulting partners and their clients
• How Bumblebee can solve data challenges your clients might be facing
• Specific questions you bring to the table about how automated data hygiene works in practice
Fill out the form to the right to download this webinar today.
---
Meet Your Webinar Leader:
Brittany Carter, President, Association TRENDS
Brittany has over 14 years of experience developing association-focused data products, services, and events including Bumblebee, Association TRENDS' automated data transformation, and deduplication tool. She believes strongly that associations of all sizes should have access to tools that help clean, maintain and utilize one of their strongest assets, data.
Duncan Bell, Vice President of Data Services, Association TRENDS
Duncan has been working in data for 9 years and is passionate about the power of automation to improve operational efficiency and fidelity of business outcomes. Duncan is the lead developer and architect for Bumblebee, Association TRENDS' automated data cleanup solution for membership datasets.