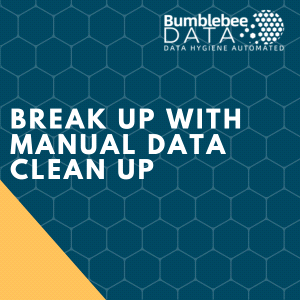 Join Sidney Galati, Bumblebee Account Executive, for an engaging and insightful free webinar. During the session, Sidney will cover everything from what data hygiene is to how automation plays a key role when cleaning your data.
You'll walk away a "BEEliever" in automated data clean up with an understanding of:
The importance of data hygiene
The costs of dirty data
Common data hygiene terms
And how automation will take your data hygiene to the next level
Investing in the upkeep of your data is just as important as investing in the system that holds your data, so why don't more organizations put this approach into practice? Take the first steps towards getting your data quality back on track by signing up today and addressing any questions or concerns you may have about cleaning up your database.
Better quality data means better service for both customers and members alike – don't wait another day to start improving yours! Dump the burden of manual data clean up and find a new mate in automation, so that your organization can focus on what's important – reaching its goals.
Fill in the Information Below to Download the Webinar Recording: